Un clic sur l'image de votre choix et vous serez dirigé vers la page du catalogue.
Click on the image of your choice and you'll be directed to the catalog page.
Sri Lanka 2015 © Olivia Bonnal Sansoni
Ces arbres sont situés dans une plantation de thé dans la région de Bandarawella. Ils sont taillés ainsi afin que les arbustes de thé reçoivent les rayons du soleil.
Je les nomme les Candelabra car la taille qu'on leur administre se rapproche de la forme des chandeliers du même nom.
These trees are on a tea plantation in Bandarawella area. They are severely trimmed to allow the tea leaves to receive the rays of the sun. I name them the Candelabras because of their shape.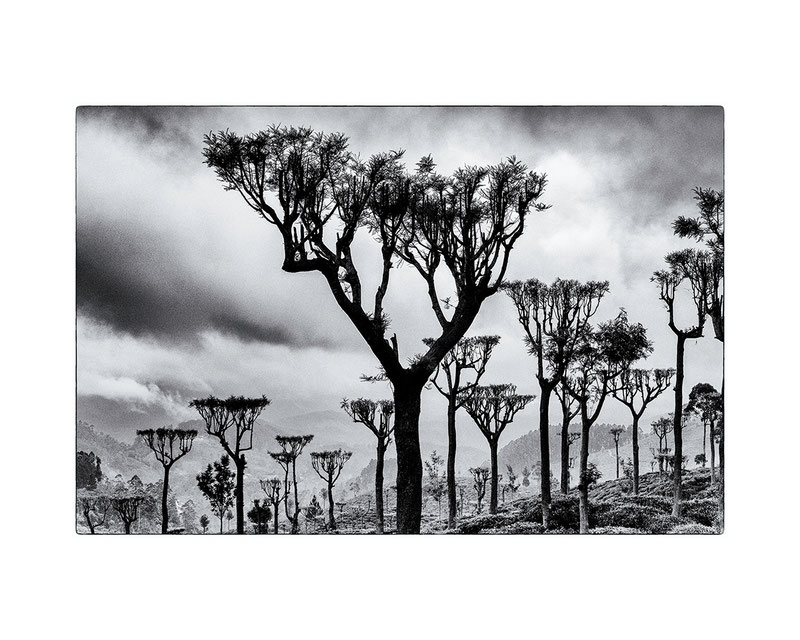 Sri Lanka, 2015 © Olivia Bonnal Sansoni
Par une matinée brumeuse lors d'une promenade en forêt dans la montagne, au détour d'un chemin, au milieu des grands arbres droits se dresse cet arbre majestueux.
During an early misty morning walk, up in the hills, when suddenly in the midst of long and straight trees, this majestic tree appears.
Paris, France 2016 © Olivia Bonnal Sansoni
Une promenade dans ce joli jardin où l'on oublie que nous sommes au centre de Paris.
A walk in this beautiful garden where we forget we are in the center of Paris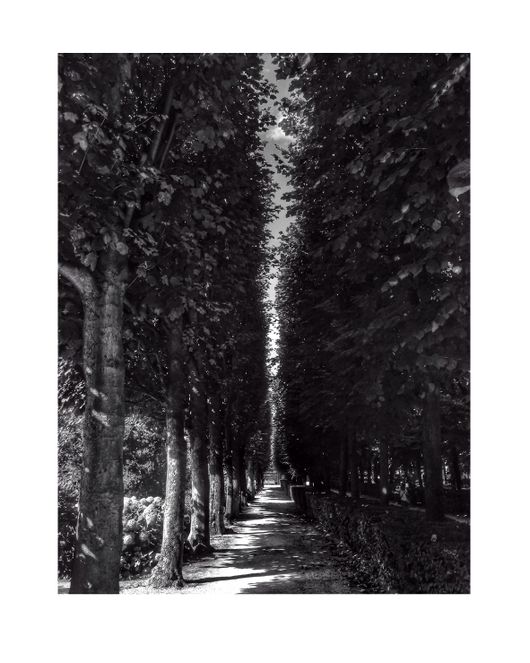 Sri Lanka 2014 © Olivia Bonnal Sansoni
Presque tous les jardins au Sri Lanka ont des cocotiers dont les noix de coco sont récoltées tous les 2 ou 3 mois.
Cette récolte se fait ainsi depuis toujours et chaque cueilleur a sa technique d'ascension qui est toujours impressionnante à observer.
Almost all gardens in Sri Lanka have coconut trees from which the coconuts are harvested every 2 to 3 months.
Each plucker has it's own technic to reach the top of the tree which is always amazing to watch.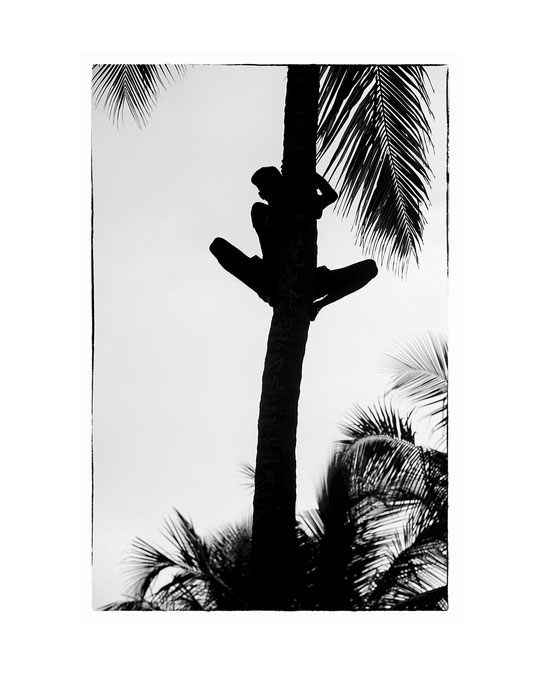 Sri Lanka 2014 © Olivia Bonnal Sansoni
Elles se sont croisées sous l'eau.
They crossed under water.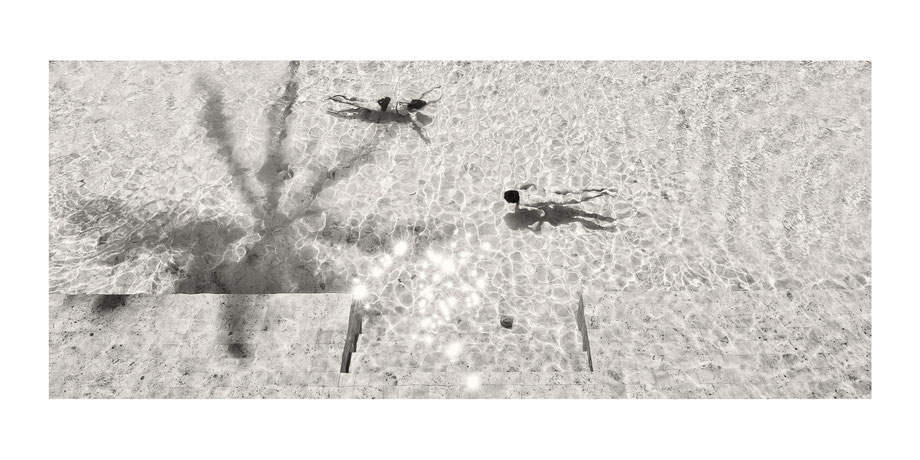 Sri Lanka 2014 © Olivia Bonnal Sansoni
Assise derrière le chauffeur d'un Tuk-Tuk.
Sitting behind a driver in a Tuk-Tuk.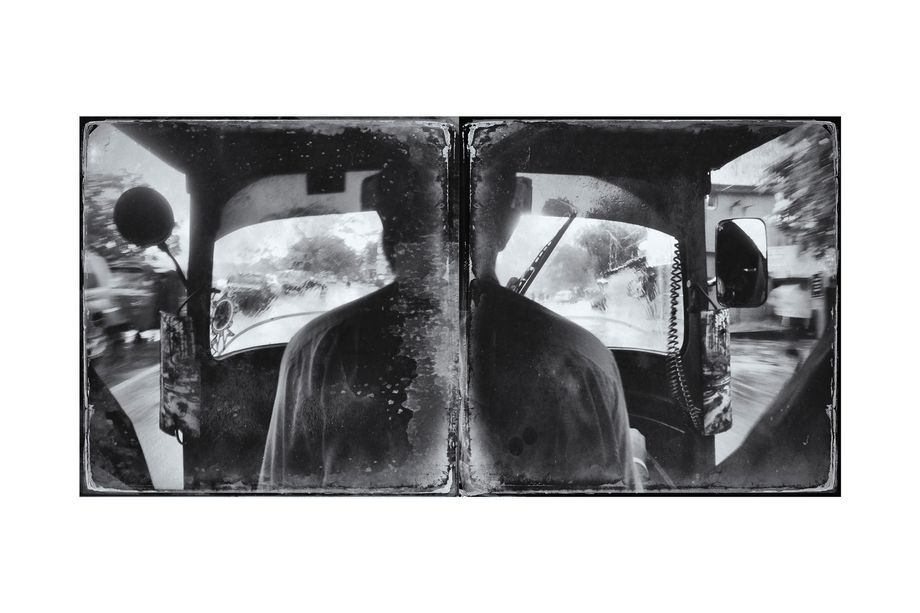 Sri Lanka 2007 © Olivia Bonnal Sansoni
Une fois par an, quelque part sur la côte au Sri Lanka, le Festival de la Fertilité a lieu dans le but de donner fertilité à la terre, à l'océan et aux jeunes filles pour la chance et leur futur mariage. C'est un Festival organisé et pratiqué par les femmes.
Once a year, somewhere on the coast in Sri Lanka, the Fertility Festival takes place to bring fertility to the earth, to the ocean and to young girls for luck and their wedding to come. It's a women Festival.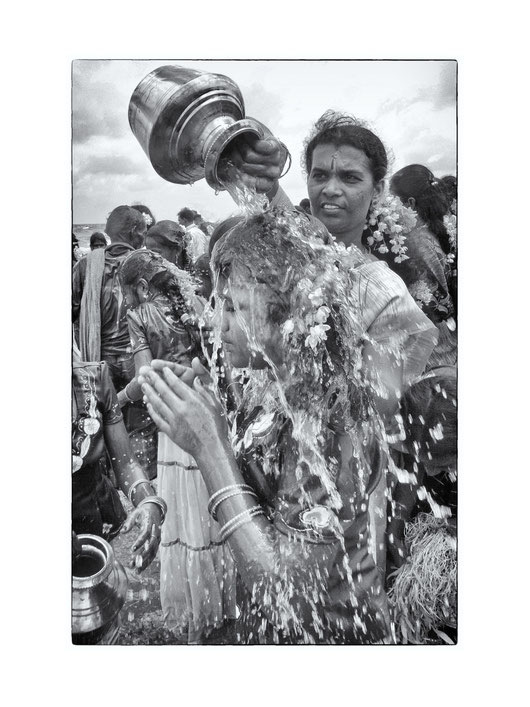 Negombo 2006 © Olivia Bonnal Sansoni
Un ami de Negombo m'a proposé une balade à cheval sur la plage. Nous avons vite remarqué que les chevaux étaient épuisés et nous avons alors gentiment fini notre promenade en les faisant marcher dans quelques centimètres d'eau.
Le propriétaire nous a demandé pourquoi et nous lui avons alors expliqué que ses chevaux avaient peu de musculature et suggéré que si il les faisait marcher dans l'eau jusqu'à mi-mollet tous les jours, ils pourraient progressivement la retrouver ainsi que leur énergie pour promener ses clients.
Quelques jours plus tard, lorsque je suis arrivée sur la plage, j'ai vu un des 2 chevaux dans l'eau, recevant les vagues en pleine face et apparemment ne souhaitant pas en sortir !
J'imagine que nos explications au propriétaire n'étaient pas claires...
A friend from Negombo suggested a horse ride on the beach. During the ride, we noticed the bad shape of the horses and gently finished our ride on the water's edge for the horses to walk in shallow water to cool down. The owner asked why and we exlained that his horses were tired due to lack of muscles and suggested that if he walked them everyday in shallow water, they could regain muscles, energy and strenght.
A few days later, I went back to the beach and I saw one of the horses in the water, facing the waves and obviously refusing to get out ! 
I guess there was a misunderstanding with regard to our explanations...